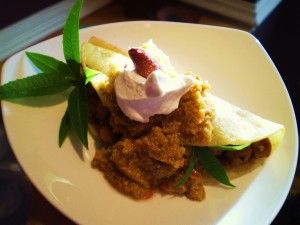 My Vegan Moroccan Chickpeas and Eggplant with Marrakesh Olive Pesto makes a beautiful taco filling.
To save time, you can use prepared taco shells, but I like to make them the way my mam-ma taught me:.  They're a little oilier, but oh-so-flavorful and softly crisp rather than shatteringly so:
Line a plate or platter with paper towel or a brown paper bag.  If making more than a couple, preheat oven to the lowest setting.  Heat a thin layer of canola oil in a large cast iron skillet over medium-high heat.  Hold a corn tortilla in a U-shape with the lowest part touching the bottom of the skillet.  I allow about an inch of width to rest on the bottom so that there is a nice space in which to spoon the filling.
Being careful not to burn yourself–you can use tongs if you prefer–hold the taco shell in this position for 0r so seconds until brown and crispy.  Then lay it on it's side and fry the first side another 30 or so seconds until golden brown.  Gently flip it and repeat.  While each side is frying, I like to use tongs or a spatula to hold the top flap away from the bottom one so that they don't stick together.  Drain on the lined plate and keep warm in the oven.  Yes, this takes more time, but it's so worth it!
Stuff each shell with some of the Chickpea and Eggplant Filling followed by the Olive Pesto.  If you have cilantro, tuck a little of it inside for delicious flavor and color contrast.  To serve, lay each taco on a serving plate, dollop with some vegan sour cream, and garnish with whatever you like, say, more cilantro, almonds, olives, or even a tiny tomato wedge.