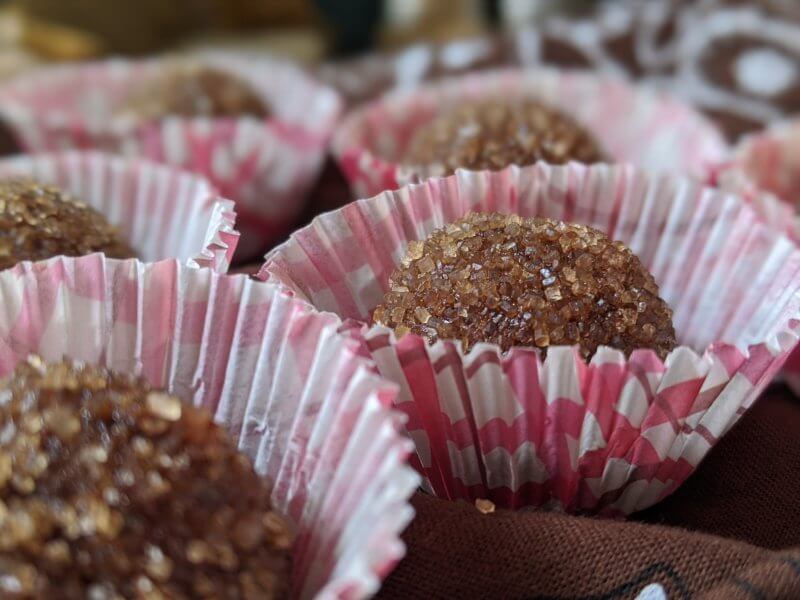 Yield: 1 dozen
These whip-together treats were inspired by my dear, dear friend, Allison Price's, Lemon-Ginger Cookies (veganized years back and posted on this site). We shared many in-home dinners, including study dinners–way before staying home was an order–while in graduate school together at Vanderbilt in Nashville. She was, and still is, an inspired home cook whose specialties run toward healthy, simple comfort food with a twist: soups, sides, breads, muffins, and such.
The cookies are a soft very gingery gingersnap, perked up with lemon. Here, I remove the butter, sugar–except on the exterior–and eggs, along with the need to bake, preserving the soft beautiful texture and deep spicy flavors with that irresistible note of tart lemon.
Note: I believe the only ingredient that prevents these treats from being totally raw is the sugar they are rolled in, so if you want them in the raw, perhaps roll the balls in more ground almonds.
(Mostly) Raw Vegan Lemon-Ginger Molasses Balls
3/4 cup processed blanched almonds (make them as fine as you can, though thet won't become flour)
1 tablespoon flaxseed meal
8 large, soft pitted dates
11/2 to 2 tablespoons ground ginger OR pumpkin or apple pie spice with a lot of ginger; (I used pumpkin pie spice for my first batch)
1/2 teaspoon salt
1 tablespoon dark molasses
Juice of 1/2 large lemon
2 or so tablespoons natural sugar for rolling
Process together all ingredients until mixture comes together in a ball. Form into 12 3/4-inch balls, roll in sugar, nestle into mini-muffin papers if desired–or just in a lidded carton or tin lined with parchment paper–and refrigerate if not serving immediately.
#vegan #veganrecipes #veganfoodshare #veganfoodporn #plantbased #plantbasedrecipes #plantbasedfoodshare #plantbasedfoodporn #vegangingersnaps #rawvegan #gingersnapballs