­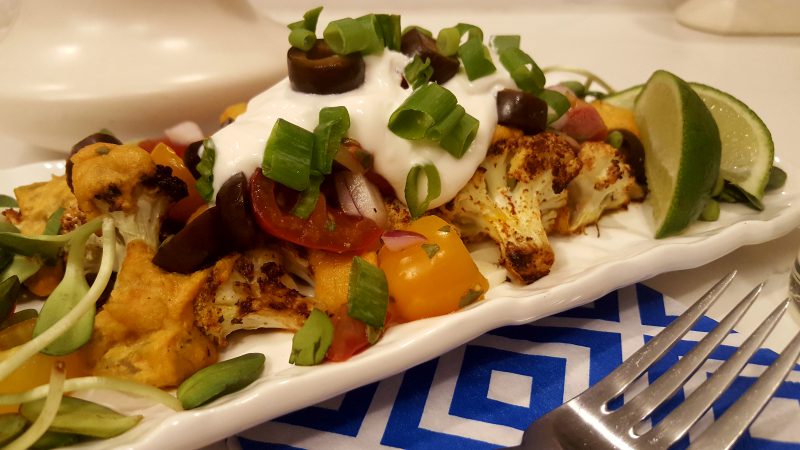 Yield: 2 servings
To make these addicting vegan roasted cauliflower nachos, you will need part of a recipe of my amazing Vegan Queso.
I studied a number of recipes, omitting and adding ingredients to suit my palate.  I arrived at something so delicious that I think you might use it to replace whatever your current favorite vegan cheese sauce is.
I know that's a bold statement, and I know everyones' palates are different, but even my picky omnivorous guy liked it. And him liking it is equivalent to someone else loving it.
Vegetable cooking spray
One head of cauliflower, trimmed and separated into florets
Sea salt to taste
Ground cumin to taste
Smoked paprika to taste
About 1/2 cup my Vegan Queso
2 tablespoons can of chopped green chilies, drained
Assorted toppings: black beans, drained, pico de gallo, sliced green onions, sliced black olives, vegan sour cream, fresh cilantro sprigs, or whatever you love piled on nachos
Preheat oven to 425 degrees. Spray a metal baking sheet with vegetable spray and spread cauliflower out on it in one even layer. Spray cauliflower with vegetable spray and sprinkle lightly with sea salt, cumin, and smoked paprika. Roast for 25 minutes. Meanwhile, stir 2 tablespoons chopped green chilies into 1/2 cup vegan queso, or to taste.  Remove cauliflower from oven, divide between serving dishes, top with queso, return to oven for two to five minutes, carefully remove, place serving dishes on a plate, and top as desired before presenting.